fidget cube is one of a desk toy tool which is helpful for every people who use to do fidget activity. It is a device which is specially designed to reduce stress during work. By using it you will be relaxes and keep calm. It is very helpful in enhancing your cognitive performance. You can use it anywhere in the classroom, at your job in a meeting, at your house. So, Fidget Cube can be a very useful device for you to be focus on your work. Even you can use it while watching T.V.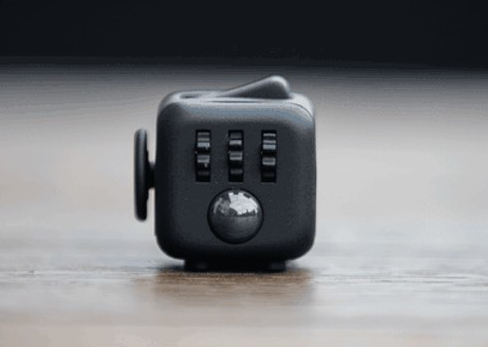 How can I use it?
Fidget Cube contain six sides. Every sides has some different fidget feature .In a Fidget Cube; there are six dynamic features which are Click, Switch, Roll, Spin, Glide and Breathe. So we will discuss about these features explaining how to use it.
• Click: Don't use the pen for clicking purpose. You can find five buttons on this side, out of them, there are three clicker buttons and two silenced buttons.
• Switch: Flip the pivoting switch. You can flip it smoothly for a silent fidget or flip quickly for an audible click.
• Roll: at this side there is Gears and a Ball that are specially designed for Rolling fidget action.
• Spin: this is a very good feature for a Circular fidget.
• Glide: you can glide the joystick, such as in a game.
• Breathe: It is a very helpful feature for avoiding stress. It is just like a traditional stone for reducing anxiety.
Fidget Cube is very comfortable and easy device for clicking, spinning, rolling and fidgeting during work at any place. It is available basically in eight colors that are die, sunset, graphite midnight, aqua, fresh, berry, and retro. Thus it is a spectacular device for fidgeting actions that you needed and it is also very easy to hold.